Dr. Shaklee's – "A Study Course In Nutrition"
In remembrance of Dr. Forrest Shaklee, Sr.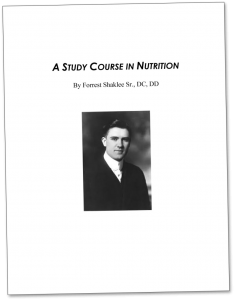 "A Study Course In Nutrition"
is considered by many to have originated from Forest Shaklee, D.C., D.D. It first appeared in the 1950's as the "Little Red Book" and has provided many students of nutrition with a practical discussion of the subject.
Even today, Dr. Shaklee's words ring true:
"The subject of nutrition is so vast and complex that no human mind has ever fathomed all it's secrets. Many of them may never be unraveled, but the basic principles are known. This STUDY COURSE is based upon these principles, as they are known to me and to thousands of other scientists.

 

Nature is orderly and balanced. Man is the "boat-rocker." He often upsets Nature's balance with results that are catastrophic. It is our duty, yours and mine, to study the complex relationship that exists between natural nutrition and strong, healthy tissue cells."
This 89-page book includes timeless information, such as:
Can old age really be postponed?
With my history of ill-health, how can I expect an enjoyable old age?
Is nutrition really that important to our state of health?
Do you mean that our doctors haven't studied the cause of health?
What is the relationship between health and disease?
What is the source of human nutrition?
How does a plant extract its food substance from the soil?
Does good nutrition always build strong, healthy cells?
Where should I start my rebuilding plan?
What is nutritional deficiency?
How can we change the process of treating disease?
And much, much more!
We hope that you will not just treasure this, but will refer to it often. And most of all, we hope you'll be reinforced in your deep appreciation for what Dr. Shaklee created for us all, with not just the products but with the Shaklee culture. Being a visionary pioneer in the field of Chiropractic nutrition and nutritional supplementation, Dr. Shaklee knew that his clinical observations would appeal to "every man" and establish a foundation for better understanding of nature's secrets. Although the scientific content of this manual is a half-century-old, the style and content of the material is elegant and clinically sound.
Now is a perfect time to reconnect with Dr. Shaklee's vision and to multiply the impact of the Shaklee Story.
Ordering Information:
Dr. Shaklee's Study Course In Nutrition is available as an 89-page black & white, 8 1/2 x 11-inch booklet that allows you to read, highlight important sections, and SHARE the information with others. If you'd like to order copies for yourself (or your team) please fill out the form below.
Available for immediate shipment:
1 BOOK = $9.95 each, plus $4 shipping  – Total: $13.95
5 BOOKS = $7.95 each, plus $6 shipping  – Total:  $45.75
10 BOOKS = $6.95 each, plus $8 shipping  – Total: $77.50
25 BOOKS = $5.95 each, plus $12 shipping  – Total: $160.75
Contact us for more than 25 – we can produce any quantity you'd like.
You can expect your books within 5 to 10 business days.
These prices are for United States shipping only. Please contact us for shipping to Canada.

All billing will say Altus Productions, LLC
Dr. Shaklee's "A Study Course In Nutrition."
Be sure to select the quantity you'd like to order below. Pricing includes shipping & handling.